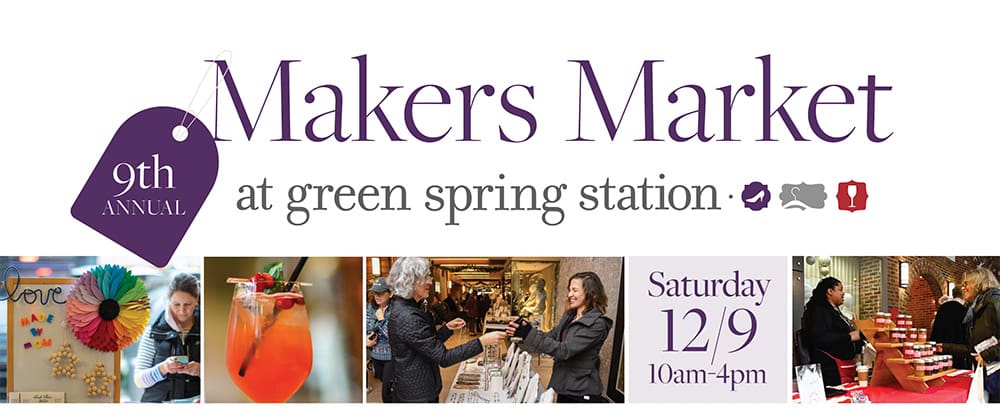 Holiday Makers Market 2023
Join Us Saturday, December 9th from 10am – 4pm
This event is free and open to the public
🎉 Get Ready to Experience the Magic of Green Spring Station! 🎉
Are you looking for the ultimate holiday shopping extravaganza? Look no further than Green Spring Station, Baltimore's hidden gem of local boutiques and restaurants! We're cranking up the festive spirit and turning up the holiday cheer, and we want YOU to be a part of it!
🎁 Here's why you won't want to miss our 9th Annual Holiday Maker's Market:
🛍️ Shop 'Til You Drop: Get ready to embark on a shopping spree of epic proportions! With Baltimore's largest collection of locally-owned boutiques, we've got something for everyone on your list. Unearth unique, handcrafted treasures that will make your loved ones' hearts sing with joy!
🎨 Artistry Unleashed: Our Maker's Market brings together an incredible showcase of regional artisans, each with their own unique creations. Discover one-of-a-kind pieces from jewelry to home décor that you won't find anywhere else.
🍹 Mixology Magic: We're not just about shopping – we're also about sipping! Baltimore's best mixologists – Cane Collective – are here to concoct the most delectable holiday masterpieces.
🎅 Holiday Entertainment: Live music to help keep the festive feel alive!
💰 Best Part? It's All FREE! 💰
That's right, this incredible holiday experience is absolutely free for all. We want to spread the holiday cheer far and wide, so come one, come all! Bring your family, friends, and even your furry companions – everyone is welcome!
So mark your calendars, set your alarms, and gather your loved ones. Don't miss the jolliest event of the year: Green Spring Station's 9th Annual Holiday Maker's Market.
See you there! 🎅🛍️🍹🎉
New This Year
Enjoy a special shop by Innovation Works, a non-profit organization designed to rebuild neighborhood economies through social entrepreneurship and impact investing.