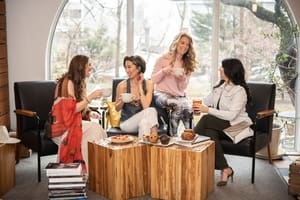 Everything I Need this Weekend is at Green Spring Station
My Saturdays and Sundays are usually quite busy, between catching up with friends and family, working on things for the blog, and meeting with collaborators. I really appreciate parts of the city that make it easy for me to juggle my schedule by putting everything I need in one spot.
I was really excited when I first discovered the shops at Green Spring Station last year because it's a more intimate, boutique take on the outdoor mall. Right up I-83 off Falls Rd, it has a great selection of stores and restaurants with an open-air courtyard in the center that hits the mark on just about everything I need on any given weekend – a place to meet for coffee? Check. Outdoor shaded tables where I can work on my laptop? Check. Places to shop with my Mom and a nice restaurant to get drinks with friends? Check and check.
I recently had the opportunity to explore everything Green Spring Station has to offer – here's what I enjoyed most:
On any given morning, the first thing I'm going to need is coffee, so Stone Mill Bakery is my first stop. It offers solid food options as well as baked goods, which is perfect since I might have meetings with different people sprinkled throughout the day.
Between meetings, and if I don't feel like opening my laptop quite yet, I'm probably going to do a spot of shopping. It seems like I'm always needing to run to the grocery store for a last-minute birthday card, so that's what I go in search of first. Gift and homegoods store Becket Hitch has plenty of cute, funny options to stock up on at their wall of paper goods. It's always helpful to have a funny birthday card (or three) at hand.
Next, I couldn't help but pop in to admire Yves Delorme's chic cotton and silk pajama separates – beautiful pieces of sleepwear that are the ultimate splurge. Though I think you could easily add a pair of heels to any of these sets and run off to a party, oui?
I always invest in shoes that last, and Stuart Weitzman is one brand I never regret buying, but not many stores carry them locally. Thankfully Green Spring Station's footwear destination Matava Shoes has my beloved Stewies and so much more.
Ok, so this one isn't part of my usual weekend routine, but for all of you brides-to-be, Francesca's Bridal has an excellent selection of dresses (I had a blast selecting the gown and reception jumpsuit pictured here). Francesca's is the exclusive carrier of several premium bridal brands in the Baltimore Metro area, including Carolina Herrera, which is what I wore on my wedding day, Nouvelle Amsale, and Romona Keveza.
This romantic blush-and-cream brocade gown by Badgley Mischka was such fun to wear, and the minimal crepe jumpsuit is so elegant and unexpected.
It's lovely that Green Spring Station has a solid outdoor space. While there isn't a ton of seating, I can see myself snagging one of the tables for a couple hours to get a little work done.
Afterwards, the neighborhood hotspot Tark's Grill is a great place to get drinks and small plates with friends. It's centrally located right off the courtyard. I enjoyed the fried green tomatoes, shrimp cocktail, and steamed mussels. To try this summer – Bon Jovi's Hampton Water, which was named best rosé of 2018 by Wine Spectator. (Tark's Grill is an exclusive local purveyor of the wine).
Will you make Green Spring Station your next weekend destination? Let me know in the comments!
Inspired by this shopping guide? Sign up for my email list now to get future posts on style, travel, and design delivered straight to your inbox!
Content Creators: Mikey Monaghan & Megan McCormack
Venue: Green Spring Station
Photography: Laura Black
Stylist: Shoptini
Makeup: Owen Michael O'Donnell
Hair: Uno The Salon